Last year, when searching for light table toys on Amazon, I came across this Jenga Tetris set. Then a few months later, my friend Jessica sent me a link to it. I almost bought it then, but didn't. So finally about a year later, I decided to buy it and it is super cool!! It is way better than I ever expected. Definitely a wonderful addition to anyone's light table toy collection! Check out some of our photos below! They stand up different ways, you can balance them and build all kinds of cool ways with them! They are awesome!
Find it HERE in my Amazon store!
Please take our button for your blog or website.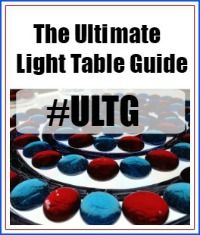 Follow Epic Childhood's board Light Table Play 101 on Pinterest.
Visit Epic Childhood's profile on Pinterest.