I found the perfect material to make sensory spaghetti with! I used plastic lacing that you use to make bracelets, lanyards, key chains and such.
I found a package at wal-mart similar to THIS, in their craft section.
It was a long pack with an array of colors. All the colors were translucent except for one which was a solid purple. I saved that for lacing and making craft stuff.
This stuff is awesome! I cut long spaghetti size strips, with some a little longer and some a little shorter. It makes the best sensory spaghetti ever!
One of the best things about it, is you are not wasting food! I do have some trouble justifying using edible food as play material.
We do from time to time, but not very often. I will only use food from the dollar tree for making sensory pasta and rice. This plastic lacing is the perfect solution.
The very best part is that it will never go bad!
check out the fun light table photos!
Please use the hashtag on all your social media, blogs, and website!
Please take our button for your blog or website.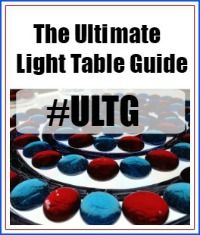 Follow Epic Childhood's board Light Table Play 101 on Pinterest.
Visit Epic Childhood's profile on Pinterest.