This was a really fun and easy project inspired by a cupcake tower our friends at Rainey Day Play used on their light table! This project cost me under $5. We already own a hot glue gun and had some hot glue gun sticks on hand. You can use regular glue too and let it dry if you want to.
All that is used here are clear plastic dinner plates, clear plastic dessert plates that the kids made designs on with sharpie marker, shooter and shot glasses, and it is all from The Dollar Tree!
To make these cupcake stand inspired light table play towers, just heat up your hot glue gun and set out the materials you want to use. Then come up with your tower design. We did two different fun designs. Then decide it you and your kids will be putting designs on the clear plastic plates, we only put designs on the smaller ones. Then start gluing it all together. My kids have been trained since age 3 to use hot glue guns properly, so they helped to make the towers.
Then let it all sit and dry, or let the hot glue harden and set. Then put them on the light tables and let the kids go to town!
Check out my twins light table play tower play pics!
Please use the hashtag on all your social media, blogs, and website!
Please take our button for your blog or website.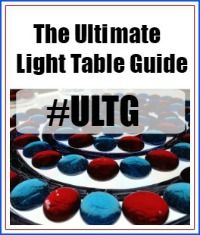 Follow Epic Childhood's board Light Table Play 101 on Pinterest.
Visit Epic Childhood's profile on Pinterest.