Pin It
Are you a Mom with kids who learn through play?
Link your blog with other Moms blogs, show off your awesome kids, play room, toys, ideas, arts, crafts, etc. Check our other Moms blogs too!! Add your blog link now!
Please add the
Learn through play Monday
button to your blog or website!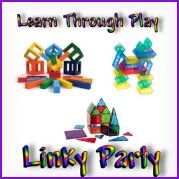 copy and paste this code
Optional: follow your Learn through play Monday hosts!
Add your blog!! We follow back all who follow us!