Since this is new I am posting it a day early....NEW!
Be WOW'd by other blogs and WOW them with your Blog!!
Get New Blog Followers!!
It's WOW Me Wednesday!!
How It works:
Post the Wow Me Wednesday button on your blog in a visable Spot.
Follow the First Four Blogs in The Hop & leave them a comment (on any post)
Add your Blog to the Hop
Come back to check for new Blogs to be added, add them and leave a comment.
Make a Blog post about your participation in WOW Me Wednesday
with the blog hop code in the post
Receive Lots of New Blog Followers!
WOW Me Wednesday Button Code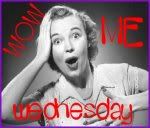 copy and paste this code