Want to be on our BlogRoll? Email TwinsandMultiples@cfl.rr.com to be added!!
Just email us a link and title to your blog!!
We just do not see enough of our button on other blogs....will you add it to yours?Let me know if you add it!! I would love to say a special thanks to you in a future post!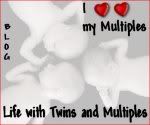 copy and paste this code