INTRODUCING The Star of the Blog World for January 2011!!!!!!
You will see this on the 5 hosts blogs and hopefully more blogs all throughout January!!! It is a month long mega blog HOP!!!! Want more followers, get on board NOW!!!!
yah I am excited so I posted it early... besides many of you all will be hung over on January 1st anyhow.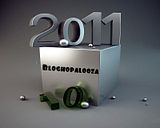 BlogHopPaloozaYour 5 Blog Hostesses
The Rules
1. follow the first 5 blogs..
2.leave a comment that they have followed so we may follow back.
optional BUT a
GOOD
idea for all
3.add the badge
4.feel free to blog about it and add linky
5.follow others and have a blast